March 2014: The Everest Summit Panorama Project 2014 - The Blog and the Panoramas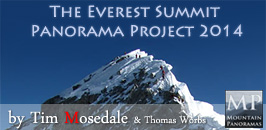 Tim Mosedale
, a very experienced British Climber and Mountain Guide, attempted to shoot a high resolution 360° panorama from the summit of Mt. Everest (8.848 m). I,
Thomas
supported this project by providing the equipment and doing training sessions with Tim. For this time it did not work. But anyway, Tim brought a lot of stunning footage from the Khumbu Valley and we will try again in 2015!
Click here
to read the full story and to view the panoramas.